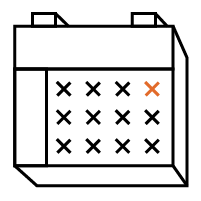 Physical address
2452 State Highway 13
Craig, CO 81638
Mailing address
5731 state highway 13
Meeker, CO 81641
In partnership with Colorado Parks and Wildlife, we hosted six kids with one of their parents from throughout Colorado for our annual urban Youth Hunt on Morgan Creek Ranch October 27-29. Our hunt aims to educate and inspire urban youth to become lifelong hunters.
Our urban youth cow elk hunt provided kids from the more populated areas of the state, opportunities to experience what it takes to be a hunter and conservationist. On the first day of this year's youth hunt, the kids met up at the gun range located at the Loper House. There, they learned how to sight in their rifle, how to use shooting sticks from the kneel and from a standing position. Once everyone was dialed in with their rifles, we finished setting up the wall tents, at base camp for the weekend's activities.
That evening the kids ate supper with their Elk Ridge Outfitter guides and got to know a little bit about each other and what was in store for the weekend.
Before daylight on day two, the guides teamed up with their youth hunter, parent and CPW volunteer huntmaster. We headed into the woods where we taught the kids how to identify, spot and stalk the elk. Should the young hunter be fortunate enough to harvest a cow elk, we showed them how to correctly field dress the animal, quarter and preserve the meat to ensure that it would not spoil.
One of the biggest lessons we tried to bring to the kids with this hunt is that it's not about the kill. The Youth Hunt is about being in nature and embracing all that Northwest Colorado has to offer with friends and family. It is imperative that we teach the hunters of tomorrow to respect the land and animals, rules that the hunters of yesterday taught us.